The Master of Knowledge and Achievement
Lord Ganesh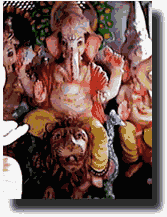 The elephant-headed Lord of all difficulties in life, or Ganesh,
is the master of all circumstances and no Hindu ritual or auspicous act
is ever undertaken without invoking him.



Other Names:
Ganapati (Leader of the 'ganas'), Vinayaka (Supreme Leader), Vigneshwara (Lord of all obstacles).


Family:
First son of Lord Shiva and Goddess Parvati.
His two spouses are Buddhi (Intellect) and Siddhi (Achievement).


Explanation of his form:
A large head tells us that the 'path of knowledge' is essentially intellectual.
Understanding Vedantic thought needs shravana (listening)...thus large ears.
As shravana and manana (to reflect upon) go together, having large ears without a head
that can comprehend truths, is meaningless.
The presence of a trunk indicates having the ability to resolve problems of the outer world
as well as employing discrimination in the subtle world of the inner personality layers.
The two tusks symbolise the ability to distinguish between good and evil, right and wrong...and other such dualties in life.
The broken tusk means that a real Vedantic student of subjective experience is one who has
gone beyond the pair-of-opposites.
A wide mouth and a big belly signifies that a man of perfection has
an endless appetite for life -- to such a person every experience is only a play of the infinite through him.
In the symbolism of the Puranas, sitting with one foot dangling implies that a man of wisdom
has the ability to integrate the material and the spiritual experiences into one.
The four arms represent the four inner equipments (anthakarana) --
one hand has an axe...to cut off attachments to the world of plurality
another has a rope...to pull devotees nearer the truth
the third holds a rice-ball (modaka)...signifying the rewards of sadhana (meditation)
and with the fourth hand He blesses all.



His vehicle:
A mouse.
There is a mouse within each of us that can eat away all the merit we have, so
a mouse is the power of desire.
Riding a mouse implies a desire to serve the world, just as much as it indicates
having mastered the urge to acquire mere material wealth.


---