The Goddess of Learning and Wisdom
Saraswati

In India, even from the Vedic times, women have been given the highest place of respect and recognition. The
Bhadwad Geeta is called the Mother Geeta. The Scriptures too are referred to as Mother Sruti. And even
Knowledge is known as Saraswati.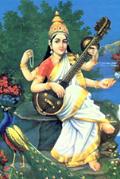 SARASWATI is the one who gives the essence (sara) of our own self (swa). She is the consort of the Creator Brahma.
How can creation be supported by anything but the 'knowledge to create'? Another truth that the common man learns
is during the nine-day Devi-pooja. In the first three days it is goddess Kali who is invoked...to assist the seeker to
destroy the -ve tendencies within. The next three days are the days for Goddess Lakshmi...to assist the seeker to cultivate
and preserve the nobler traits or one's inner wealth. Only then does it benefit to invoke the Goddess of Learning Saraswati.
Thus only after the false values of desire, lust, and passion are weeded out, and the +ve qualities like self-control, love, and kindness are cultivated would the process of actual learning begin.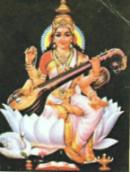 Symbolism in the form of Saraswati.
Seat is a Lotus or a Peacock
...implies that the teacher is well-established in the subjective experience of the Truth. When sitting on a peacock
she reminds us that ego is to be suppressed.

Has four arms
...manas (mind), buddhi (intellect), chitta (conditioned consciousness), & ahamkar (ego).
...manas and buddhi together hold the Veena (Indian Lute). this suggests that a truly qualified teacher tunes up the
mind and intellect of the seeker and draws out of him the music and melody of life. If such tuning is not done,
mental agitation and disharmony with the world reign.
...chitta holds the Scriptures, implying that the knowledge of the Scriptures alone can take us to the Truth.
...the remaining arm, ahamkar, holds the beads, to bring out the importance of prayer and meditation.
Her sari, always white, reminds us that all knowledge of value should be pure and unsullied by untruth.
The graceful swan by her side reminds us to separate the chaff from the grain of true knowledge.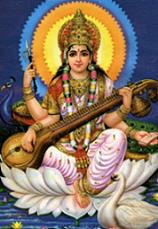 ---